10 Natural And Eco-Friendly Cleaning Products For The Conscious Home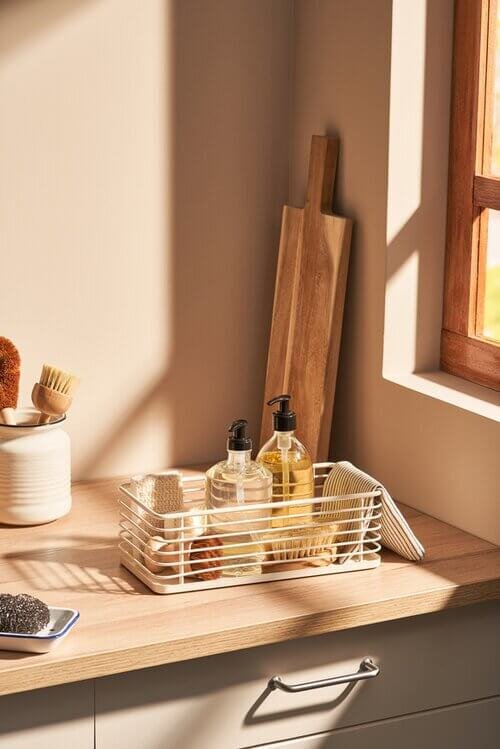 Natural & Eco-Friendly Cleaning Products 
In the last few years, we've been extra thoughtful about what we use to clean our spaces. We prefer to avoid harsh cleaning products, like bleach, and keep a critical eye on the ingredients in our household products.
Instead, we opt for naturally derived, nontoxic, and biodegradable cleaning products made using sustainable manufacturing practices. These natural and eco-friendly household cleaning brands are conscious of your family's health and the wellbeing of the earth. Many of these companies also give back to communities and social causes, and some even offer zero waste and refill options. You can find these goods at large retailers, natural grocery stores, zero waste shops, or online.
Want to make cleaning products at home? See our guide to DIY cleaning formulas so you know each and every ingredient! And clean your clothes, too, with these natural and organic laundry detergents.
1. Grove Collaborative
Natural & Organic | Yes
Best For | Home delivery & refill shipments
Eco-Friendly | Certified B Corp, sustainable materials, reusable packaging, carbon-neutral shipping, plastic-neutral
Gives Back | Charitable partnerships with environmental causes
Price | Varies; $4.99 flat-rate shipping for orders under $49
Grove Collaborative is re-thinking what it means to maintain a clean home with natural products. The company offers a multitude of household, personal care, and cleaning product subscriptions, from multi-surface cleaners to pet stain removers. The range includes the Grove Collaborative label, as well as other natural brands we love (i.e., Mrs. Meyers, Method). Whether you're opting for one-time delivery or want to set up a recurring shipment, Grove has all the natural cleaning products you need in one place—and with carbon-neutral shipping. How's that for lowering your carbon footprint and waste?
2. Blueland
Natural & Organic | Yes
Best For | Zero-waste cleaning kits
Eco-Friendly | Biodegradable nontoxic formulas, recyclable & refillable packaging, water- & single use plastic-free, Climate Neutral & Cradle-to-Cradle Certified
Price | $48 for Blueland Clean Essentials Kit
Blueland is a nontoxic household brand showcasing the power of clean, green formulas. Blueland products are water-free and low-waste, with refillable packaging you can use again and again. To start, choose from its line of foaming hand and dish soap, laundry detergents, home cleaning formulas, or its discounted bundles. The Clean Essentials Kit, for example, has more than 6,000 positive reviews and contains four reusable bottles and a set of refills. Enjoy free, carbon- and climate-neutral shipping and a 60-day guarantee, or your money back.
3. Dropps
Natural & Organic | Yes
Best For | Laundry & detergent pods
Eco-Friendly | Compostable packaging, carbon-neutral shipping, plastic-free, locally made in USA
Price | $25 for 64-count Dishwasher Detergent Pods
Before Tide came out with its pods, Dropps released its laundry detergent pods back in 2005! Today, this conscious brand carries everything you need for clean clothes and counters, with its laundry and kitchen essentials. These green cleaning products are made with only eco-friendly, mineral-based ingredients and packaged in compostable packaging. Dropps' products are third-party tested and have even won the EPA's Safer Choice Products of the Year—so it's safe, sustainable, and squeaky clean in every way. Check out our Dropps review for more!
4. Thrive Market
Natural & Organic | Yes
Best For | One-stop shop for natural & organic household cleaners
Eco-Friendly | Certified B Corp, carbon-neutral, low waste practices, only stocks biodegradable, recyclable, & vegan cleaning products
Price | Varies; $5/month membership fee
For a destination marketplace and membership-based service carrying all of our natural and organic favorites, Thrive Market is our go-to (you can read more about how it works in our Thrive Market review). Find affordable eco-friendly brands like Seventh Generation, Truce, and Dr. Bronner's here—without the carbon footprint! You can refine your search based on the type of cleaner you need, ethics, or natural ingredients. Memberships start at just $5/month for wholesale priced items, while also providing one to a household in need. (Psst—Thrive Market makes a great Amazon alternative if you need home products).
5. Common Good
Natural & Organic | Yes
Best For | Refillable products
Eco-Friendly | Refillable packaging, sustainably sourced, 100 percent essential oils, biodegradable
Price | $8.25 for 16 oz All-Purpose Cleaner
Common Good was launched in 2010 as a response to the lack of reusable packaging, so all of its cleaning products come in recyclable plastic or glass packaging—either of which can be refilled at any of the brand's refill stations worldwide or online. Discounted subscriptions are also available. The green, child- and pet-safe, and minimally packaged items range from lavender All-Purpose Cleaner to bergamot Hand Soap; consider the scents a sweet finish to your cleaning.
6. ECOS
Natural & Organic | Yes
Best For | Affordable all-purpose & pet cleaners (shampoo, odor remover, stain remover)
Eco-Friendly | Carbon- & water-neutral, 100 percent renewable energy, Zero Waste TRUE Platinum Certified, sustainable sourcing, recycled packaging
Gives Back | Charitable initiatives through ACS, Green for All, & Folds of Honor
Price | $3.99 for 22 oz All-Purpose Cleaner
ECOS has been family-owned and -operated for more than 50 years, with a promise to make "green cleaning" a reality through sustainable and mindful practices. The company's facilities are powered by 100 percent renewable energy and use carbon- and water-neutral practices. The team even goes the extra step to offset employees' commutes, minimize carbon emissions between sites, and more. ECOS has brought the green cleaning movement to almost one million homes, thanks to its natural cleaning products at affordable prices.
7. PUR Home
Natural & Organic | Yes
Best For | Laundry soap & bathroom cleaners
Eco-Friendly | Organic & plant-based ingredients, low & nontoxic formulas, biodegradable, recyclable packaging
Price | $10 for 32 oz Multi-Purpose Scrub Cleaner
After embarking on eco-conscious lifestyles, PUR Home founders Angela and Michelle Richardson were driven to create natural household, cleaning, and skincare products using only the best in plant-based ingredients. Today, this natural and nontoxic line includes laundry detergents, all-in-one concentrates, and multi-surface cleaners that are just as biodegradable as they are effective. Formulated in the USA, PUR Home products are safe for your family, pets, home—and Mother Earth.
8. Branch Basics
Natural & Organic | Yes
Best For | Natural concentrates
Eco-Friendly | Biodegradable plant-based formulas, MADE SAFE certified, recyclable & refillable packaging
Price | $69 for basic starter kit & $49 for concentrate
From heavily soiled laundry to a newborn's baby skin, Branch Basics' concentrate works effectively without irritation. You can replace dozens of cleaning products with just this standout concentrate, alongside a starter kit and refillable options. Products are fully biodegradable, fragrance-free, and non-GMO, with natural ingredients like baking soda and organic chamomile. If you only need the concentrate: Simply fill up the bottle to the waterline, add some formula, shake, and get cleaning! It's easy, effective, and eco-conscious.
9. Puracy
Natural & Organic | Yes
Best For | Doctor-developed, baby-friendly products
Eco-Friendly | Biodegradable formulas, locally made & sourced, recyclable & refillable packaging
Gives Back | Donates to initiatives serving local families & children
Price | $6.99 for 25 oz Multi-Surface Cleaner
Puracy, based out of Austin, believes in being as natural as possible. The brand's products are guaranteed effective, pure, and free of any harsh chemicals—and can be refilled to maximize sustainability, too. The formulas also natural enough to break down safely in the environment. Plus, when Puracy says products are made in the USA, the brand means it: The packaging features drawings from local artists and the brand sources materials from across America. The graphic design comes from CT, and product photography is from fans all over the country.
10. Eco-Me
Natural & Organic | Yes
Best For | Commercial cleaning products via EcoMe PRO
Eco-Friendly | Plant-based ingredients, BPA-free, made in the USA, post-consumer recycled plastic when possible
Gives Back | Charitable partnerships with Pasadena Humane Society, the Breast Cancer Fund, & more
Price | $5.99 for 32 oz All-Purpose Cleaner
Eco-Me's product line covers every room in the house, from the popular Wood Polish to the Carpet Cleaner for your most cherished non-toxic rugs. While we know that Eco-Me is perfect for you and your family, we are even more excited that the brand has a commercial cleaning product line with EcoMe PRO—let's make green cleaning the go-to for the entire community.